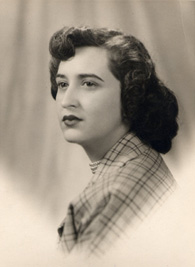 One day, back in 1954, after Alice, the girl I was dating, had helped me hang sound proofing drapes in a recording studio I was opening, saw a paper on a music stand and asked what it was. I told her that it was a new song I was working on. She asked me to sing it. Then she asked me to sing it again, and joined me in the singing. Then unknown to her, I turned on a recorder and slipped a disc on the turn table and started it. Then I asked her to sing it.. She did! I found that recording, and after so many years, it was in pretty good condition considering the age and the abuse it had taken in moving situations, It was recorded on a Presto disc cutter.
She didn't know that I had written that song for her., I didn't play it for her until after we were married.
She asked me to destroy it,
But the 'pack-rat' in me didn't obey! THANK GOD.
..Alice's HS Gradustion Year Book- 1952